Powerwash Pumps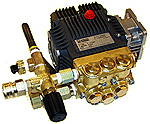 The Easiest and Fastest Way to Replace a Pressure Washer Pump
Is your old pump getting a tired? In as little as 15 minutes, you can be up-and-running with a new pressure washer, except for the hose, gun, and engine. Simply unbolt and remove the old pump from the motor or engine, and bolt on a replacement "Pump Made Ready".
Every Pump Made Ready comes complete with:
Hollow Shaft – slips easily over engine/motor shaft
Unloader - allows pump to bypass when gun is closed
Thermal Relief Valve – protects against overheating
Quick Disconnect – quick-couples hose to pump
Garden Hose Inlet Fitting – with filter for water supply
Pressure Relief Valve – safety valve prevents pump damage
Bypass Plumbing – simplifies installation
Gas Engine Pumps also include:
Easy Start Valve – unloads pump for easier pull-start

Pumps Made Ready are used on:
GAS ENGINES

ELECTRIC MOTORS

5.5 to 20 HP
Shafts 3/4″ and 1″

1.5 to 10 HP
Shafts 5/8″ to 1-3/8″
BELT DRIVE PUMPS MADE READY ALSO AVAILABLE

Pumps Made Ready applications are exceptionally diverse so please contact us for a quote on your needs.

Showing all 5 results