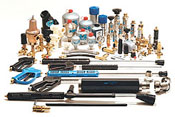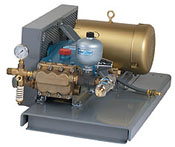 Since 1968, CAT PUMPS have been designed and manufactured to be the most dependable, efficient, and long lasting high pressure pumps available.
Today, more than 1000 models are available and supported by the most experienced sales and service staff in the industry.
CAT PUMPS are triplex designed for a smooth and consistent flow and are 30% to 50% more efficient than many other types of pumps.
EDI Distributors and CAT PUMPS offer:
| | |
| --- | --- |
| An ISO 9001 certified manufacturing facility | A complete line of matched accessories |
| A unique seal design and material for longest life | A 99% order-from-stock fill rate |
| An extensive distribution network | Unparalleled service literature and tech support |
| Many variations in materials for special applications | Custom engineered Power Units to your specifications |
EDI stocks a complete line of pump repair kits, matched accessories and repair parts for all CAT PUMPS.  Call 800-433-2033 for further information and pricing on any of our products.
CAT PUMPS Applications
CAT PUMPS are used in thousands of applications wherever liquids are moved under pressure. To see the solutions others have applied, click on an application below.
Let EDI Distributors be your resource for design and construction of completely pre-tested, customized power units. Contact us for a faxable Power Unit Check Sheet. We will respond promptly with a competitively priced quote for your exact application.
CAT PUMP Selections
CAT PUMPS are available in flow ranges from .5 to 450 GPM at pressures from 500 to 10,000 PSI. Some typical series are below.
| | | | |
| --- | --- | --- | --- |
| Series | Max PSI | Max GPM | Speed Range RPM |
| | | | |
| | | | |
| 3 to 60 Frame Piston Belt Drive | | | |
| | | | |
| | | | |
| SF Direct Electric/Gas Drive | | | |
| | | | |
| 2DX Plunger Electric/Gas Dtive | | | |
| 6DX –66DX Plunger Gas Drive | | | |
Many pumps are available with various optional configurations to meet any demanding requirement. Options include:
Stainless Steel Manifolds

Nickel/Aluminum/Bronze Manifolds

Teflon and Viton Elastomers

High Temperature Cups and Seals

Perma-Lube Seals

Chrome Plated Brass